Part of the "Pacific Standard Time" initiative presented by the Getty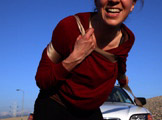 Both Can't Afford the Freeway and Shifting were curated by Donna Conwell into the K-PST project.
About K-pst:
K-PST is an expanding, dynamic resource for artworks and ideas that shape California's fertile contemporary art landscape. K-PST's growing archive is comprised of unique curated programs, artworks, commissions, interviews and related documents. K-PST is part of the Getty Center's initiative Pacific Standard Time: Art in L.A. 1945 - 1980, and Performance and Public Art Festival.