June 18- July 2, Zoé Gallery, Rome, Italy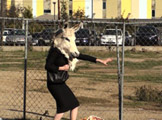 Opening 6th July, 6pm – 10pm
Curator Camilla Boemio has chosen international artists : Shaun Gladwell ( 2009 Venice Biennale ), William E. Jones ( 2011 Venice Biennale ), Geof Oppenheimer, Claire Hooper, Elana Mann, Tessa Den Uly, Owen Kydd, William Kaminski, Brandon Lattu, McLean Fahnestock, Matthew Suib & Nadia Hironaka, Stefania Rota and others.

The exhibition would offers, a key of reinterpretation of the most interesting language of contemporary art and his relationship with the cinema .
Video Art has become one of the most significant channels of contemporary artistic expression since its first appearance in the 1960s. Its versatility in technical terms makes it a form of art capable both of adopting a stance on social, political and anthropological issues and of conveying vision at a more introspective and personal level. It thus constitutes a fertile terrain for dialogue and the exchange of ideas with other media through a hybrid language stimulating the artists' imagination and critical thinking.

In the course of its history, Video Art has not only rethought and revitalized investigation of the audio dimension through the use of words and texts but also examined the range of visual effects made possible by the electronic image so as to develop new semantic mechanisms embedded in moving pictures. Above all, the period since the 1990s has seen both the birth of new explorations and narrative strategies with respect to the medium's intrinsic expressive potential and a readiness to draw upon stimuli and ideas from areas like painting, sculpture, photography and cinema as well as the vocabularies of television, literature, dance and drama.

Citations from the history of cinema serve in some cases as material for deconstruction of the illusionistic narrative framework upon which the Hollywood movie industry is based. At the same time, the use of some elements peculiar to the language of cinema attains expressive autonomy and is enriched with new meanings, the psyche and the sphere of human feelings, for instance, in the work of William E.Jones .
Media patner : LANDSCAPE Stories - http://landscape-stories.tumblr.com/

Camilla Boemio is a writer , curator, contemporary art critic (www.camillaboemio.com – blogs http://aniconics.wordpress.com - http://aniconics.splinder.com ).