June 15- August 10, Torrance Art Museum, Torrance, CA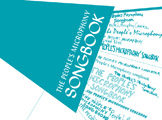 Opening reception
Saturday, June 15, 2013 from 6 – 9 p.m.
3320 Civic Center Drive
Torrance, CA
Concerning activism, the 99%, Occupy, Anonymous, Wikileaks, MoveOn.org and other manifestations of the political.
Richard Ankrom , Christy Roberts Berkowitz, Sandow Birk and Elyse Pignolet, Clayton Campbell, Martin Gantman, Robbie Herbst, Olga Koumoundouros, Elana Mann, Owen Driggs, Chad Person, Linda Pollack, Vincent Ramos and Stephen Lapthisophon, and Gavin Turk
The museum is open Tuesday through Saturday from 11a.m. to 5p.m.
The Torrance Art Museum is the premiere visual art space to view contemporary art in the South Bay. It is a program of the City of Torrance Cultural Services Division of the Community Services Department. The Cultural Services Division is responsible for City sponsored arts and culture initiatives held at the Torrance Cultural Arts Center and throughout the City.
Additional information about special events and upcoming arts programming at the Torrance Art Museum can be requested by email at TorranceArtMuseum@TorranceCA.Gov or by calling 310-618-3846.