January 14, 2014, 7:00pm, Center for Performance Research, Brooklyn, NY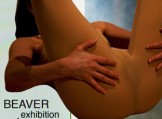 7pm doors / 7:30pm show
CPR-Center for Performance Research 361 Manhattan Avenue Brooklyn NY 11211
Tickets: $5
Event Listing: http://www.cprnyc.org/events/beaver/
Beaver is a multi-disciplinary exhibition, performance, and panel discussion delving into contemporary feminist perspectives on pornography, gender performance, and female sexual self-expression. Inspired by artist Naomi Elena Ramirez's work of the same name which interrogates porn culture and female sexual expression through dance and visual scores for the body, this one-day event, curated by Ramirez and Kristen Sollee of the sex positive feminist site Slutist.com seeks to create discourse, awareness, and community.
The exhibition features over a dozen contemporary female artists whose work expresses a diverse cross-section of perspectives on female sexuality and women's embodied experiences through photography, painting, drawing, collage, performance and video art. Following screenings and a performance of Ramirez's piece, the event will culminate in a panel featuring artists, educators and activists who will discuss intersections of sex, race, gender, and sexuality in art, media representations, and lived experiences.
Aimee Hertog | Andrea McGinty | Chan & Mann | Claire Hatamiya | Damali Abrams | Emily Tepper | Jenna Kelly | Kristen Sollee | Lisa Beerle | Manuela Garcés | MM Serra | Naomi Elena Ramirez | Shandoah Goldman & Nicole Wolcott | Samantha Groff | Sabrina Leung


Facebook Event Page https://www.facebook.com/events/1398116393761717/
Purchase Tickets http://www.brownpapertickets.com/event/522419

Naomi Elena Ramirez is a multidisciplinary artist whose work embraces and fuses visual art, performance art, video art, and contemporary dance. Currently an MFA candidate in visual art at Vermont College of Fine Arts, Naomi has an Advance Certificate in Graduate Studio Art from New York University and a BA in Dramatic Art/Dance from the University of California at Berkeley. Recently, her work has been presented by In Bodies We Trust Northwestern University's Graduate Student Performance Studies Conference, New Voices in Live Performance at The Center for Performance Research, Bushwick Open Studios at Chez Bushwick, Animamus Art Salon, and CultureFix, a performance art showcase.
Kristen Sollee is an arts journalist, gallerist, and professor at The New School. She is the founding editor of Slutist, a sex positive feminist site that aims to uncover and address the intersections between sex, gender, sexuality and feminism in art, entertainment, and politics, with a particular focus on women who are not bound by the binaries of style/substance, brains/beauty, masculine/feminine, and virgin/whore.