Nov. 1- December 16, Pomona Art Museum, Claremont, CA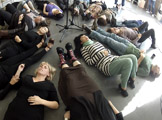 The PMC and other works are included in this great project organized by Adam Overton. I will be performing at the Pomona Art Museum on November 5, as part of the Eternal Telethon, and my piece Activ[ist] listener performances: scores for listening to lectures is included in the Bureau of Experimental Speech and Holy Theses Weekly publication, Issues 1-5.
Facebook: http://www.facebook.com/pages/BESHTx/402979009758564
Twitter: http://twitter.com/BESHTx
Contact: BESHTx@gmail.com
"Project Series 44" consists of artist Adam Overton's newest consortium, The Bureau of Experimental Speech and Holy Theses (BESHT). An experiment in public address, BESHT explores the commingling of speech, authority, and performance. Visitors will witness the artists, writers, performers, and designer of BESHT delighting in various forms of rhetorical play, ranging from dictation to meditation to proclamation. The exhibition and related projects feature a series of weekly events that temporarily convert the Pomona College Museum of Art's project space into an experimental public speaking hall. During the rest of the week, BESHT is serving as a reading room and Free Speech Auditorium with an occasional Diction-for-Dollars Open Mic for adventurous students, faculty, and visitors. All BESHT proceedings will be broadcast online, and a weekly newspaper publication, conceptualized with and designed by Tanya Rubbak, will accompany the exhibition.
"Project Series 44" complements the exhibition "John Cage: Zen Ox-Herding Pictures" in its unique focus on collaborative practices and experimental strategies. John Cage was well known for performing his lectures, many of which were composed using chance procedures. The project is also working closely with several departments on campus, including the Pomona College Art Department and Pitzer College's Intercollegiate Media Studies.

About the Free Speech Auditorium and the Diction-for-Dollars Open Mic…
The BESHT Free Speech Auditorium will be available for the Claremont Community to use throughout regular gallery hours (Tuesday through Sunday, 12–5 p.m.) starting November 1st. We invite students, professors, classes, clubs, student groups, and gallery visitors to use the space during this time for all their public speaking needs: lectures, artist talks, class presentations, soliloquies, poetry readings, debates, rants, he-said/she-saids, and more. All proceedings within the museum's project space will be broadcast live via the Pomona Museum website for the duration of BESHT. If any party is interested in reserving the space, please contact us at BESHTx@gmail.com, otherwise use of the space is first come, first served.
As an additional component, Art After Hours at the Museum (Thursdays, 5-11 p.m.) will institute an experimental Diction-for-Dollars Open Mic shortly before and after the evening's official BESHT proceedings. During this Open Mic, students, faculty, and others will have the opportunity to earn $1-per-minute if they dare to stand up and be heard!
CREDITS
The Bureau of Experimental Speech and Holy Theses is a collaborative effort involving:
BESHT Concept — Adam Overton
BESHT Publication Concept — Adam Overton & Tanya Rubbak
BESHT Identity & Publication Design — Tanya Rubbak
BESHT Presenters & Publication Contributors — G Douglas Barrett, Carol Cheh, The Eternal Telethon (Jennifer Bruce, Johan Buverton, Alexis Disselkoen, Johnnie JungleGuts, Elana Mann, Adam Overton, Marcos Siref, Niko Solorio, and more tba), Anna Mayer, The People's Microphony Camerata (Elana Mann & Juliana Snapper), Hannah Rachel Pivo, Tanya Rubbak, Jeffrey Daniel Schmidt, Mathew Timmons, and UNFO (The Unauthorized Narrative Freedom Organization) aka Amanda Ackerman & Harold Abramowitz
BESHT Lectern Design — Nate Page
Project Manager — Aandrea Stang
Design Intern — Joanna Rosso
Summer Curatorial Intern and Assistant — Hannah Pivo
Special Thanks to our growing list of Claremont Colleges supporters:
Elizabeth Affuso (Pitzer, Intercollegiate Media Studies), Mark Allen (Pomona, Art), Bill Anthes (Pitzer, Art), Stephanie Hutin (Pitzer, Intercollegiate Media Studies), Elana Mann (Scripps, Art), Susan Rankaitis (Scripps, Art), and more tba soon...
Very Special Thanks to:
John Bewley (Associate Librarian/Archivist, Music Library, SUNY Buffalo), Arnold Dreyblatt (Akademie der Künst, Berlin), Gerry Eastman (Julius Eastman Estate/Williamsburg Music Center), Petr Kotik (S.E.M. Ensemble), Laura Kuhn (John Cage Trust), Ronald Kuivila (Wesleyan University), Pauline Oliveros, Sylvia Smith (Smith Publications), Roger Tilton, ...
Related Events
Thursday, November 01, 5:00 - 11:00 PM
We Connect John with Julius

Tuesday, November 06, 12:00 - 5:00 PM
Election Day Eternal Telethon: Eternal Talk-a-thon!!

Thursday, November 15, 5:00 - 11:00 PM
Anna Mayer's WORD THE WORD: Negative Sessions

Thursday, November 29, 5:00 - 11:00 PM
A Guided Meditation Marathon
Thursday, December 06, 5:00 - 11:00 PM
Closing Reception and TMFA Award Ceremony!