June 23- July 20, Culver Digital Mural Project at UCR ARTSblock's Culver Center of the Arts, Riverside, CA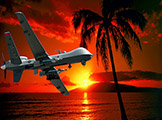 Closing reception July 19, 6pm-9pm
Elana Mann and Matias Viegener have produced a new work entitled Drone Duet for Culver Center Digital Mural Project. The artwork considers the way drones have infiltrated our lives as toys, weapons, spooky friends, accomplices, listeners, watchers, and enemies. Viegener's drone poem was written in 2013 through a cell phone, an implicit, "friendly" drone. The poem alternates between playful and grave, revealing the haunting and inevitable presence of drones in our lives. Mann's animation translates a typical day of drone activity, from afternoon, to evening, to stormy morning. The animation shows drones in their natural habitat, highlighting their unique flying abilities, unmatched maneuverability, and deadly accuracy.
Elana Mann is an artist based in Los Angeles, CA, who makes visible the unseen power of sound and listening. Mann creates artwork across a variety of media including video, performance, sculpture, sound, and collage. She has exhibited nationally and internationally including the Ford Foundation, REDCAT, Otis College of Art and Design, the Hirsshorn Museum, A Gentil Carioca, and Luxun Academy of Fine Arts. Mann received the 2009 California Community Foundation's Visual Arts Fellowship as well as a 2013 and 2012 ARC grant from CCI. Since 2005 she has collaborated with the artist Audrey Chan as the duo Chan & Mann. www.elanamann.com
Matias Viegener is a writer, artist and critic who lives in LA and teaches at CalArts. His work has been seen at LACMA, Yerba Buena Center for the Arts, Ars Electronica, ARCO Madrid, the Whitney, Los Angeles Contemporary Exhibitions, Machine Project, MCA San Diego, and internationally in Mexico, Colombia, Germany, and Austria. He is a co-founder of Fallen Fruit (2004-2013), the author of the new book, 2500 Random Things About Me Too, and the editor of the forthcoming I'm Very Into You, the correspondence of Kathy Acker and McKenzie Wark. He's also a 2013 Creative Capital award recipient.
The Culver Center Digital Mural Project Series is curated by adjunct media curator Jeff Cain. He is faculty at the USC Roski School of Art and Design, and director of the Shed Research Institute.

The Culver Digital Mural Project at UCR ARTSblock's Culver Center of the Arts presents a series of changing projects on the two screens inside the façade's glass kiosks that face the pedestrian mall. These projects are an opportunity to extend ARTSblock programming into the public space.

UCR's College of Humanities, Arts and Social Sciences (CHASS) and the City of Riverside have provided support.
http://artsblock.ucr.edu/Exhibition/Culver-Digital-Mural-Project-Elana-Mann-Matias-Viegener