October 10, 6-10pm, Side Street Projects, Pasadena CA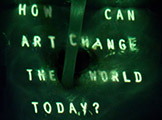 730 N Fair Oaks Ave, Pasadena, CA 91103
On October 10, 2014, Freewaves, Anne Bray, and the attendees of ArtNight Pasadena will collaborate to make a new kind of interactive public work exploring current attitudes towards art and world events. Freewave's videos by the following artists will be looped throughout Side Street Projects' walls, screens, fences, and patio with their implied questions.
• Can You See Me by Lisa Dianne Wedgeworth, How can a camera capture you?
• Re/Trato by Oscar Munoz, How do you want to be remembered?
• Look at Me by Willie Middlebrook, What does your face say?
• Odyssey by Zig Gron, Are we making progress?
• Piccolina by Caress Reeves, What is your baggage?
• Homing by Arjuna Neuman, What forgotten history should be remembered?
• Painting the Town by Megan May Daalder, Who is invisible in Pasadena?
• Ass on the Street by Elena Mann, What is her purpose? destiny? destination?
• Art or Ads by Lisa Marr, Can ads be art?
• Grapevine Scan by Center for Land Use Interpretation, What is wrong with this picture? & What divides us?
• Game Over by Seyed Mohsen & Pourmehseni Shakib, What game is over?
Along side of Freewaves' artist videos, Anne Bray and staff of Freewaves, Vera Makianich, Daniel Garcia and Cindy Ly Rozas will show micro projections on attendees and surfaces throughout Side Street Projects. Using micro handheld projectors, they will project video loops of 2 similarly spelled words with juxtaposed meanings onto the crowd as they watch the above artists' videos. The new animated text shorts will illustrate the slight spelling changes between the following pairs of words:
wearisome weareone allowed aloud
class clash underserved undeserved revolution resolution stranger danger attention tension attract attack
canon cannon treat threat
GMO OMG unclear nuclear
take cover take over

The performers will ask viewers, "How Can Art Change the World Today?" Viewers will be guided and encouraged to post answers on Twitter with the hashtag #questiontheprojection. All responses will be projected on Side Street's back wall creating a communal feed of reactions. Stickers with social media handle and hashtag will be handed out.
Participating organizations:
Freewaves has pioneered every new development in the field of media art, establishing itself as one of the most respected and adventuresome advocates for raising media arts to a truly democratic vector for ideas and images.
Side Street Projects is an entirely mobile artist-run organization that gives artists of all ages the ability and the means to support their creative endeavors.