Putting the Words Back into the F-Word. An Interview with Audrey Chan and Elana Mann, By Micol Hebron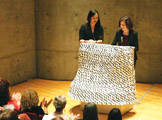 Chan & Mann were recently interviewed by the lovely Micol Hebron for Artpulse Magazine, No. 12, Summer 2012 issue.
The interview spans topics from Chan & Mann's recent retrospective, to their themesong and the entire magazine issue is devoted to Art and Feminism.
For a link to the online article click here.