at KCHUNG radio 1630am: October 6, November 3, December 1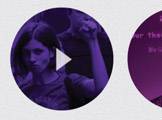 Resonate-Reverberate-Roar (Re-Re-Roar), is a growing archive of original sounds that express an experimental, independent, and socially progressive spirit. The sounds of Re-Re-Roar include field recordings, interviews, songs, speeches, experimental music, and more. Re-Re-Roar is a site for activ[ist] listening, with the purpose of distributing sounds of resistance to eager ears around the globe. Visitors are encouraged to add their own sounds of resistance to the archive through the website's submit function.
Re-Re-Roar was designed by Roman Jaster and Nicole Jaffe, with production assistance from Reilo Dahl.
The website is being launched with three events at KCHUNG radio 1630AM, based in Chinatown, Los Angeles
Sunday, October 6, 1:30pm-3:00pm, "Sounds from the archive":
Elana Mann and her co-DJ Reilo Dahl will spin tunes from the Re-Re-Roar archive and converse with Natilee Harren and John Bartel.
Sunday, November 3, 10:30am-12pm, "Words upon words":
With performances by Vincent Ramos in collaboration with Konrad Smolenski, Audrey Chan, and Andrew Choate, plus a dialogue with John Tain.
Sunday, December 1, 1:30pm-3:00pm, "Songs of resistance":
A dialogue with Stacey Allan and performances by Emily Lacy, frau fiber, Mathew Timmons, and Anna Mayer.