March 8- April 29, Side Street Projects, Pasadena, CA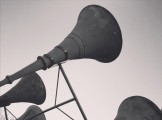 Side Street Projects
730 N. Fair Oaks Ave.
Pasadena, CA 91103
Opening reception and performance: March 8, 6-10pm
Listening as (a) movement is a new public artwork by artist Elana Mann involving interactive sculpture and community based performance art events.The project investigates sound and the voice as physical entities that can move us emotionally, form deep interpersonal connections, and be agents of social change. The project was commissioned by Side Street Projects (SSP) and is located at SSP's mobile headquarters in NW Pasadena, where Mann has built three outdoor acoustic sculptures, as well as organized community events and artist performances/workshops that will take place during the course of the exhibit.
For more information please visit:
www.listeningasamovement.org
www.sidestreet.org
Public Events:
March 8, 6-10pm: Artnight: opening of Listening as (a) a movement, performance by Allison Johnson
March 23, 11-1pm: Listening Instruments workshop with Alex Braidwood
April 11, 6:00pm: Calling 4/11! Dialogue with the NW Commission and Pasadena Youth Leaders DayOne Youth Advocates in partnership with Pasadena Youth Council, PLUS, and NW Ambassadors.
April 20, 7-9pm: Film screening with Deborah Kaufman & Alan Snitow
April 27, 2-4pm: Closing event with Julie Tolentino

Participating artists:
Alex Braidwood, Allison Johnson, Alan Snitow and Deborah Kaufman, and Julie Tolentino

Participating organizations:
YouthBuild, DayOne, NW Commission, Pasadena Senior Center, Pasadena Youth Council, PLUS, and NW Ambassadors

Project Intern:
Melissa Margolis, Scripps College '13
This project is made possible through a grant from The Pasadena Department of Cultural Affairs Arts and Culture Commission and an ARC grant from the Center for Cultural Innovation as well as Guest Hause Residency.