Sept. 24 - Oct. 21 at 323 projects or (323) TIE-IN-LA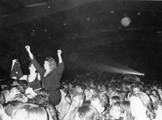 For more than one voice is a collaborative exhibition conceived of by Elana Mann.
Listen
Sing-A-Long
Or contribute

About 323 Projects
323 Projects exists to provide a dispersed, peripatetic, and constantly accessible venue for artists of all kinds who seek to explore issues important to their respective practices. The artists involved with 323 Projects provide, create, or perform works that can be appreciated in bits and pieces, and at more than one time, in both public and private spaces, by an unseen, yet omnipresent, local and international audience.
HOW IT WORKS
Exhibitions at 323 Projects can be reached by dialing (323) 843-4652. Once the caller connects, they hear an audio recording by a featured artist. The only charge for the call is a local connection fee billed to the caller (the same charge one would get for calling a Los Angeles local number). In certain instances the caller will have the option of leaving a message that the exhibiting artist can then hear and do with what they will.
323 Projects is not a commercial gallery. Each artist exhibiting with 323 Projects retains all rights and ownership of their work. Artists may chose to produce limited editions, promotional material, or CDs to be used as fundraising materials for 323 Projects, but 323 Projects does not represent artists or sell artwork for a profit.