August 6-27, ANN 330 Gallery, Los Angeles, CA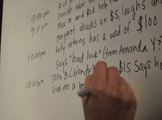 Opening reception Saturday, August 6, 6-9pm
ANN 330 Gallery
170 S. La Brea Ave., Los Angeles, CA 90036
Tuesday-Saturday,12pm-5pm and by appointment
IN PROCESS…curated by Thinh Nguyen is inspired by the Process Art movement established in the mid-1960's. In this exhibition, the process of making and the concept of change is a mutable action, system, or series of changes taking place. The process refers to the continuous conception of art in relation to the body, politics, nature, experience, and life. In Process is concerned with agency, seeing the art as an ongoing expression, whether inherent, symbolic, metaphoric, or literal. Therefore, the art object is viewed as a conceptual gesture in process, rather than as a deliverable result. This exhibition features the works of Tania Jazz Alvarez, Andrea Bowers, Andre Goeritz, Summer Janelle, Mihyang Kim, Elana Mann, Deborah Martin, Christine Nguyen, Yoshie Sakai, Jennifer Vanderpool, Kim Ye.

Tania Jazz Alvarez
I make large, colorful, messy figurative paintings that tell stories and celebrate the underdog. The poetry of the street plays an important role in my art; from what I paint on, to what I paint with, to my subject matter, my art conveys both liberation and pride toward my Hispanic culture. My art is done with a purposeful anti-design. Natural laws are removed; I prefer cultural mind-scapes and allegorical spaces over the traditional figure/ground relationship. I place the viewer in a confrontational stance so as to feel directly engaged with each of my paintings. I don't portray heaven, hell, or even reality. I create gritty, non-escapist fanciful worlds, something like utopian communities gone wrong. My humorous environments allow me to play with stereotypes and create both counter-histories and my own futures.

Andrea Bowers
Andrea Bowers received her MFA from CalArts and currently lives, works and teaches in Los Angeles, CA. Since 2003 Bowers' work has focused primarily on direct action and non-violent civil disobedience enacted through the lives of mainly women. She presents the stories of activists to express her belief that dissent is essential to maintaining a democratic process, as well as to illustrate the importance of a political strategy that stands in opposition to violence and war.

André Goeritz
I respond to layering. New layers build on preceding ones--each subsequent layer informing the next--from inception to completion.
Summer Janelle
My work derives from the inner sensations we encounter with human interaction on a daily basis. I am fascinated with the invisible everyday occurrences and I bring them to life. I am making the invisible visible.These mundane sensations are in constant flux. My digital photographs address the everyday access of taking a photo and is utilized as a banal medium. The luscious, vibrant paint applications take on the inner sensations that exude from the body and highlight the photographs scene reaching the photograph to the sublime. The transcendental state is where the sensations roam in their space, leaving the body to its new capacity and in constant flux through imagination.
Mihyang Kim
My works are sort of a journal, which is truly personal but at the same time it belongs to the public. All of my experiences are connected to the outside world and each piece is connected to a story. I paint abstract emblems that stem from my interaction, with people expecting their death, living as immigrants, being disconnected from their pasts. My work represents my sympathy and compassion for the pain they have. I record my emotional and physical diversity, depending on the situations I am involved in. The precarious state of nature and the human environment are also important to my work, as both context for and continuation of the suffering my art conveys.
Elana Mann
Elana Mann is an artist living in Los Angeles, CA, who creates artwork through systems of exchange and conversation, revealing struggles in interpersonal dialog and political control. Her practice encompasses performance, video, installation and objects, in addition to discursive and collaborative projects. Mann received her B.F.A. from Washington University, St. Louis and her M.F.A from California Institute of the Arts, Valencia.
Deborah Martin
Deborah Martin is a Los Angeles-based contemporary realist painter, fine art photographer and curator. A site-specific artist, her work eulogizes the abandoned habitats and domestic landscapes of small town America. Much of her practice emerges in collaborative conversation with writers and video artists, and takes form through exhibitions, installations and publications. Painter Deborah Martin has established a compelling dominion as portraitist of an archaic America – ravaged sites and forgotten wastelands that nonetheless resist destruction. Her luminous paintings and photographs reveal the beauty in the bleak, and speak to the tenuous balance between home, deprivation, isolation, community and hope.
Christine Nguyen
My work draws upon the imagery of science, but it is not limited to technologies of the present. It imagines that the depths of the ocean reach into outer space, that through an organic prism, vision can fluctuate between the micro- and macroscopic. I have been developing a personal cosmology in which commonalities among species, forms, and environment become visible and expressive, suggesting past narratives and possible futures. The forms and environs in my work sometimes migrate into new pieces, establishing new systems. These systems imagine modes of transportation, communication, and regeneration. There are no waste materials in these worlds: vision is a renewable resource.
Yoshie Sakai
Born 1970 in Torrance, California. 1994: BA in Communication Studies from UCLA. 2004: BFA in Drawing and Painting from California State University, Long Beach. 2009: MFA in Painting and Video Installation from Claremont Graduate University. Que Sera, Sera is an experimental narrative short where Sakai physically ages herself from infancy to old age and undertakes the character of various interviewees from the ages of 3 months to 93 years by lip syncing their answers to life's questions. By doing so in a non-linear fashion, she examines the universality of the human condition and the inability for anyone to wholly control their own destiny in a humorous and poignant manner.
Jennifer Vanderpool
Jennifer Vanderpool is a Los Angeles based artist who creates large scale installations that include video, animation, audio, and performative elements. Vanderpool's working process often explores her heartland roots where she was raised to be a gritty domestic goddess. She now employs her shopping skills to gather food stuffs and landscaping goods to create multifaceted and sometimes meandering installations that comment on domesticity, constructed environments, and pop culture.

Kim Ye
My practice centers on exploring lived experience as the osmosis between individuated bodies and larger phenomenological fields created through the institutionalization of economic, social, and scientific practices. Both physically and conceptually, this slippage between internal/external, self/other, defined/defining occurs along a body's boundary; thus the forms I create embody processes of invasion and incorporation. Using techniques of penetration, rupture, prolapse, splicing, and grafting, I draw from traditions of sculpture, installation, video, and performance to orchestrate scenarios of confrontation between material surfaces. In doing so, my fantasy is to condense the subconscious residues left by inter- and intra- subjective relationships into tangible matter that shares a present with the viewer. Simultaneously intrusive and submissive, my works often dwell in the affective—and sometimes uncomfortably humorous—spaces of abjection, intimacy, indoctrination, and fetish.