Elana Mann speaks at a Feminist symposium presented by Otis College of Art and Design's Ben Maltz Gallery, Sunday, October 16, 9am-2:30pm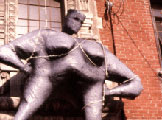 Symposium/convening/reunion, this two-day event offers a dialogue between feminist artists then and now.
Sunday, October 16, Ben Maltz Gallery
9:00am-2:30pm: Artists' presentations and conversation at Otis with Sheila Levrant de Bretteville, Susan E. King, Suzanne Lacy, Audrey Chan, Onya Hogan-Finlay, Elana Mann, Feminist Art Workers, The Waitresses, and others.
Tickets: General $25; Students $10 and available online.
More info: http://www.otis.edu/public_programs/ben_maltz_gallery/wb_tickets.html