Baik Art, April 16- Jan 20, 2016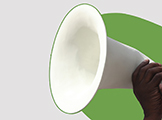 Opening April 16, 6-8pm
2600 S. La Cienega blvd.
Los Angeles, CA 90034
Baik Art presents Talk Through the Hand, an outdoor wall work by Los Angeles artist Elana Mann who, for this project, adopts an image from the domain of sound—conversational and musical—through the suggested action of listening. Mann has proposed an instrument that illuminates both the political attempts to constrain public speech and the resilience of the human voice to prevail against all odds. Her wall project (facing La Cienega Boulevard at the southeast corner of Venice and La Cienega Boulevards in Los Angeles) will be on view from April 16 until July 16, 2016.
Throughout her career, Elana Mann has produced a diverse collection of collages, performances, recordings, sculptures, and videos, which carry her observations and visual commentary related to the perception of sound, sometimes with a revisionist's assessment of the historical record. Her work is charged with alternative messages that, typically, are left open to interpretation. Her art practice bears an unassuming tone, underscored with social annotation that is always positive. On first observation, one may think Mann's Talk Through the Hand wall image is intriguing, but let the work set awhile and the artist's transcendent philosophical connections start to appear.
Baik Art also presents A List of Sounds That Have Reverberated Through My Body, a limited edition of 25 archival silk screened prints and 5 APs that shares its debut with Mann's latest outdoor wall project. Each of the 24 1/4 X 19 1/2 inch reproductions is signed, numbered, and dated by the artist.
For this print Mann has adopted a message that represents her ongoing interest in the action and transfer of listening. Mann's new print edition (her first) picks up the expressive nature of the question: How does sound connect to a listener? Does it shake the soul and elevate a hearer, or does it contain sentiment that reflects on the listener's subjugation?
Mann's edition (each print offered for $250) can be seen during regular gallery hours or by appointment at Baik Art gallery.